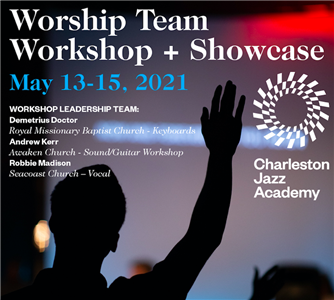 Worship Team Workshop + Showcase
May 13-15, 2021
The Charleston Jazz Academy is pleased to offer a program designed to advance the skills of musicians of all denominations, thus improving the worship experience of the congregation. This workshop will feature some of the most experienced worship leaders in contemporary church music in the Charleston Area including Demetrius Doctor, Andrew Kerr, and Robbie Madison. The workshop will focus on improving the rehearsal experience, expanding skills, learning new music, and providing ever better, inspiring spiritual support to the church and its people through high quality, meaningful music.
General Information:
Dates: Thursday, May 13 - Saturday May 15, 2021
Team registration: $250 (up to 8 participants from your church)
To register your group, go here
Individual registration: $50 per individual
To register as an individual, go here
Age: middle school students - adults
Location:
Charleston Jazz Academy
3005 West Montague Avenue, Suite 200
North Charleston, SC 29418
Workshop music:
1. Your Great Name - Todd Dulaney
2. What A Friend - Chandler Moore
3. Echo – Israel and the New Breed
4. Graves Into Gardens - Elevation Worship, Brandon Lake
(Information on obtaining the music will be provided to registered groups/individuals, if you don't have it already.)
Workshop Leadership Team (*= workshop directors):
*Demetrius Doctor, Royal Missionary Baptist Church - Keyboards
*Robbie Madison, Seacoast Church – Vocal
Andrew Kerr, Awaken Church- Sound/Guitar Workshop
(more workshop faculty will be announced soon!)
The workshop outline is as follows:
Thursday, May 13, 6:30-9:30pm—
6:00pm - Arrive and Check in (Light Reception)
6:30-7:30 - Worship Leaders Meeting
Introductions; trends in the worship experience; "What is the goal of your group?"
7:30-8:00 - Get to know you (Worship Team)
Building a more successful rehearsal plan; improving communications between musicians and ministers
8:00-9:30 - Rehearsal
Friday, May 14, 6:30-9:30pm—
6:00pm - Arrive and Check in (Light Reception)
6:30-7:00 Discussion on worship and the role of music
7:00-8:00- Masterclasses (Workshops – vocalists, guitar and keyboards, bass and drums; horns)
8-9:30 - Rehearsal
Saturday, May 15,
9- 12 - Rehearsal
12-1 - Lunch
1-3 - Band Evaluations (Each band brings one song of their choice)
3pm - Call time
3:30pm - Showcase Concert (Program TBD based on workshop selections, etc.)
COVID Information:
We will observe all Covid protocols in place at the time of the workshop. This includes:
the use of masks when not singing (masks may be used while singing in rehearsals, but not at the Showcase)

social distancing if required

proof of vaccination, or

a recent Covid negative test result taken within one week of the workshop.

You may bring these documents with you to the first session.
Team registration: $250 (up to 8 participants from your church)
To register your group, go here
Individual registration: $50 per individual
To register as an individual, go here